CENTRAL RETAIL AND MOMENTS AT RMIT CAREERS FESTIVAL 2022
On 23/08/2022, representative from Home & Entertainment division of Central Retail Group – Ms. Nguyen Thi Hoa had a very valuable experience at the recruitment day organized by RMIT University in Hanoi. With the participation of many famous recruitment brands, this is a great program for students to find development opportunities, job opportunities for themselves and they also gain more experience when interviewing with recruiters.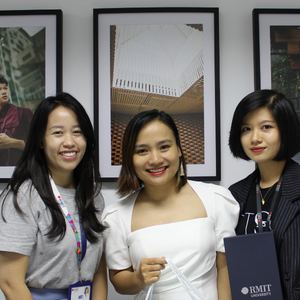 GEN Z - A GENERATION FULL OF CREATIVITY
After the interview process, Ms. Nguyen Thi Hoa – Recruitment Supervisor at Central Retail had a very positive sharing for Gen Z: "Students are living and developing in the digital, so they are extremely agile with technology. Besides, with confidence, communication, presentation and problem-solving skills continuously honed throughout the university journey, it has created for you a different way of thinking, bold, dare to try and extremely comfortable when presenting problems posed by employers when interviewing. There are those who have been looking for opportunities to experience internships at businesses from the first and second years, even setting up fan pages, TikTok to create social media content. I believe that not only Ms. Hoa but also many recruiters have the same way of thinking.
ACTIVELY SEEK INTERNSHIP OPPORTUNITIES
With the above sharing, we can see that we are not inferior when putting on the scale with people with many years of working experience. What we need is the opportunity to experience, to be trained to be able to develop ourselves.
Home & Entertainment would like to send you the positions for trainees: Jobs at Non Food Group - Central Retail in Vietnam -